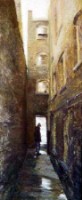 "Gangway" oil 28" x 12" Julie Sulzen (2002)


A landscape, whether it is of nature or of the city, is nothing more than
detailed abstractions. The bold geometric patterns that play out in a landscape
become puzzle pieces of large squares, rectangles, triangles, etc. To me, the
varieties of shapes (windows, doors, buildings, clouds) are enticing.

As a native of Chicago I feel compelled to record on canvas the beautiful
landscapes around me. Since childhood, Iíve admired the contrast of a
building faÁade designed by Louis Sullivan (in Lincoln Square, near where I grew
up) to that of a gangway between working class homes. I have never learned to
drive, so an average walk through the neighborhood becomes inspiration
for my work. Familiar streets take on new life with each day. A tired alley
glistens with a new beauty after rain. An indiscrete little white house shouts
out against a backdrop of solid blue sky.

I originally focused on painting only my neighborhood. Now, the work has taken
on a more important role of documenting rapid change in an urban area. Almost all
the scenes Iíve painted have recently changed Ė houses torn down, siding updated,
garages replaced, properties rehabbed. The paintings have unintentionally taken
on the role of history.

I always carry a cheap camera with me on my walks. My reference material is
usually of low quality but my memory fills in the gaps. I have painted from life
for many years. This experience now helps to handle the light and color of my work.
There are more colors to an urban environment than just gray and brown. Iíve
taken the things that Iíve known my entire life and put them into my work.